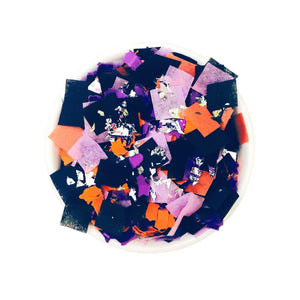 Ghoulfriends Confetti
Your halloween party is about to get really sparkly and spooky really quickly!
This is the luxury confetti of your tossing dreams! Three types of paper (tissue, card stock, and metallic shred) gives you THREE different types of floating action. This means BIG effect for your biggest events. Each dazzling batch is handmade and ready to party! You can toss it or stuff it in your cards for an extra special surprise. This mix looks amazing for table decor. It photographs wonderfully so it would be great for your blog/Instagram photos.

Color way: Shades of purple, orange, and black with silver metallic shred
We recommend you use this gorgeous confetti for inside celebrations. It's so easy to clean up! Simply sweep or vacuum your floor. It is lightweight so it should not clog your vacuum.